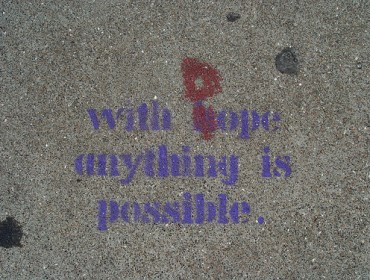 SNAP to it Food Stamp Challenge–Day 17
Karen is still young (42) and the mother of four children. She dropped out of high school, pregnant with her first child and married her boyfriend. Her husband, Larry, has bounced from job to job and scheme to scheme trying to make a living and do something big with his life. Larry has a good heart but his tough-as-nails rearing that has left him bitter and frustrated. He is abusive with Karen, hard on the kids, and drinks way too much. Sometimes he will leave home for months at a time for seasonal work, sending precious little back to help Karen run the house.
Oh, speaking of the house…they own it, but it's two steps away from being uninhabitable with water in the basement, missing siding, and minimal insulation. It's small and filled with the belongings of four children, two adults, and about half a dozen cats. The family does not have Internet service, but they do have a landline and a premium satellite package. The two oldest kids work at minimum wage after school jobs to pay for a shared car and pre-paid cellular packages. The youngest two will go to work as soon as they are legally able to do so.
Karen has held a series of low paying jobs including house cleaning, non-licensed home health aide, and painter. She has trouble holding a job for very long because of constant health issues and lack of reliable transportation. She plants a garden every year to help provide food and fill a freezer. When Larry is home, he and the oldest boy hunt and if successful process their own deer meat.
Karen and Larry live in a small town in rural America, in what one would now term a food desert. The nearest grocery is about 15 miles away. There is no food in town other than what is served at the local bar. When she can, Karen visits the food pantry in a town about 25 miles away. This pantry doesn't ask too many questions, and she has even lied on occasion and said she's taking food to a relative in order to have enough to feed her family between trips to that town. She constantly runs behind on the water bill, the electricity has been shut off twice, and the phone and satellite are luxuries she struggles to pay to maintain some semblance of normalcy for her family. Clothes come from resale shops and yard sales. "It gets really old," she says, "having to tell your kids there's not enough money for them to buy school pictures or prom tickets or contribute to class fund-raisers. Everyone in the county thinks we're trash."
One bright spot is that the kids now get free school lunches. She went in and signed them up when Larry was working out of town and hasn't told him yet. Unfortunately, because Larry and Karen own their own home, they do not qualify for many services. She could probably get state insurance for the kids, but she's afraid to try and run through the paperwork gauntlet. Plus, Larry is intensely proud and forbid her to seek help. She would like to visit the county social services office again, but she is afraid of who might see her and find out. Plus, she is afraid of Larry's temper and pride but even more afraid she can't survive on her own if she leaves him.
Life is hard, and Karen has learned to stretch the truth like taffy and take advantage of opportunities to try and do anything she can to make life better for her children even if it means nothing is left for her. She wonders about her children's future and what will become of them if they don't get out of town. She encourages them to think about joining the Army or National Guard and hopes her daughter won't get pregnant and that her sons won't get someone pregnant. She does purchase a lottery ticket each week. Who knows? Maybe she'll get lucky some time. Once she won $20 and another time she won $10. As she says, "Somebody's gotta win the big bucks, right?"
Karen is not her real name, of course, but her life and situation are all too real. Karen is actually a composite picture of several people—invisible people who may live right next door to you or who you see in the grocery trying to make ends meet or who are trying to squeeze another hundred miles out of bald tires or negotiate a better bargain on a bag of yard sale clothes. She's the woman you see in the minister's office who is hoping you won't see her as she asks for help.
The "Karens" of the world work hard to feed their families with or without the benefit of SNAP funds. These individuals are hungry, but their hunger is for more than bread; they are hungry for a job, for stability, for respect. They are hungry to be seen and appreciated for who they are and who they could become. Most of all these invisible "Karens" are hungry for hope.
How can we invite the "Karens" of the world into relationship and community? Can we see them for the dearly beloved children of God that they are, no better and no less than anyone else? Will we share a meal, a pew, and a life with them? Do we see all that we take for granted, our places of familiarity, entry, and privilege, may seem inaccessible to these individuals who are used to being invisible and unobtrusive? Finally, what one thing can you do today, right now, to level the playing field and widen the circle?
State of the Pantry
Brunch was leftover garlic cheese grits, biscuits, and bacon. Fruit, fruit popsicles, and tortillas were snack food for the day. Here's my dilemma; we went out to eat tonight at Jason's Deli, spending just under $20. The idea was to eat a healthy meal out and then run errands and see my cousin. SNAP funds are not accepted there, so do I take it out of my budget and have basically nothing left for the month at all, or do I count it as entertainment? The roast beef that we would have eaten will become sandwiches for my daughter's road trip back to Indiana tomorrow. It will be a long 12 days if we buy nothing else, but the idea was to live within a food stamp budget for the month. This dilemma is illustrative of the hard choices too many families and "Karens" face every single day.
Website of the Day
Click here to read "Too Poor to Make the News," a follow-up article written by Barbara Ehrenreich in 2009 that revisits some of the women with whom she worked while writing Nickeled and Dimed. While you're there spend some time looking around and reading some of her excellent blog entries.
Photos by Orin Zebest, Community Center of St. Bernard Parish, vvvracer, and Franco Folini provided through a Creative Commons License. Thank you! Photo of Barbara Ehrenreich from her website.
Stewardship of Life
Thank you for printing this article!
You can view this article online at http://bit.ly/bmZrqG.
© 2010 Stewardship of Life Institute
https://westrevision.stewardshipoflife.org
No Comments
Leave a Reply