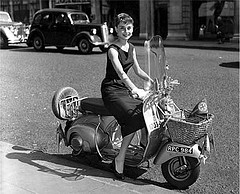 Lessons from a Happy Closet ala Audrey: Round Two
Six months ago, I wrote about streamlining my wardrobe and trying for a more unified, basic, yet stylish look. In the interim, I have made a 1500 mile move and downsized significantly. Before the move, I completed one more closet purge and felt like I had managed to reduce my wardrobe to a really good size. What I owned three months ago fit easily in the six foot closet of my apartment bedroom.
Recently, however, I've been thinking again about the Audrey Hepburn wardrobe and whether I'm really inching any closer to my goal. In case you forgot, here's the basic wardrobe:
2 pair classic Capri pants
2 white shirts
6 pairs of shoes
2 basic black dresses
Trench Coat
4 classic sweaters
2 simple skirts
Here's where I am right now:
1 pair classic black Capri pants (just bought used at the Junior League bargain mart for $3)
1 white shirt (Yup, it's still the same old Eddie Bauer button down oxford classic)
1 black dress (a three quarter sleeve Hanna Andersson knit that my daughter proclaims a fashion casualty)
Trench Coat (Classic London fog with zip out wool lining—wish it was black, but khaki will have to do)
6 classic sweaters (1 long teal cardigan, 1 long navy cardigan, 1 long orange cardigan, 1 red cable cardigan, 1 purple cap sleeve cardigan, 1 three-quarter sleeve ruby cardigan) All are cotton or wool/cotton blend, so they can be worn virtually year-round in Tennessee.
7 simple skirts (1 gray pencil skirt, 1 black all-season wool skirt, 1 dress khaki skirt, 1 casual khaki skirt, three above the knee casual skirts—black, dark denim, and khaki)
6 pair shoes (1 black ballet flats, 1 black heels, 1 black Birkenstocks, 1 black boots, 1 brown boots, 1 pair tennis shoes)
3 pair sandals (1 black Keens, 1 brown vintage Italian leather, and 1 brown beaded flip flops)
3 suits (black, teal, and navy)
3 clergy shirts
3 casual blazers (navy, khaki, and lavender linen)
I also have a pair of old khakis, old faded jeans, nice dark stretch jeans, and black leggings. I have four sleeveless cotton shells, seven solid t-shirts, and four other shirts/blouses. I have one dark green velvet Mandarin style dressy dress, an oatmeal-colored linen dress, jeans jacket, two pair khaki shorts, four pair running/soccer shorts, one swim suit, and about a dozen assorted t-shirts, two windbreakers, several scarves, two purses, two belts, and an ample supply of undergarments and pajamas.
I continue to downsize and have given away three bags of assorted clothes since moving here. The rule is two things out for every one thing in. I also have one plastic tote of winter clothes, including a sapphire wool coat and the gigantic Irish sweater that I simply could not leave behind.
Am I where I would like to be? Well, no, I'd still like to simplify more, but it is a process. I am under 100 items, not counting undergarments and accessories, and it still feels like too much. I plan to cut out another 10-20 items at the end of summer, but I am still looking for that perfect white shirt and a pair of khaki capris. Form, function, and comfort are the key elements over trendy style. I have way more than enough, and as items wear out, my plan is to only replace them with the best possible quality that I can find. That may mean splurging on a really nice pair of leather flats (I've already re-heeled the ballet flats twice!), but every purchase will be carefully analyzed.
How about you? What's the state of your summer wardrobe? Moving any closer to the 19 classic Hepburn-inspired items? Men, what's the state of your closet? Would you consider yourself more of a Jack Johnson or Cary Grant dresser? Do you own six pair of shoes or 36? Do you worry about what to wear?
As long as we're talking about a wardrobe ala Audrey, here a few timeless tips from the paragon of style herself:
"For beautiful eyes, look for the good in others; for beautiful lips, speak only words of kindness; and for poise, walk with the knowledge that you are never alone." – Audrey Hepburn
Photos by katerina w, Theresa Thompson, and pwbaker used under a Creative Commons License. Thank you!
Stewardship of Life
Thank you for printing this article!
You can view this article online at http://bit.ly/9QVyjy.
© 2010 Stewardship of Life Institute
https://westrevision.stewardshipoflife.org
2 Comments
Leave a Reply