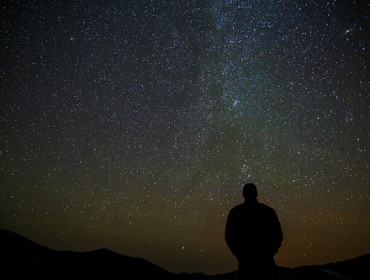 From Fear to Faith to Freedom
12th Sunday after Pentecost Lectionary Reflection
August 11, 2013
Do not be afraid little flock, for it is your Father's good pleasure to give you the kingdom. Luke 12:32
Want to appreciate the scale of the universe? Take a blanket outside to a place beyond the lights of town or farmyard, make sure it is a night when the moon is absent or but a waning sliver of light, lay down and stare into the velvet sky. Watch as it seems to increase in depth and immensity, as more and more stars become visible before your eyes. Maybe, if you're lucky and you do this soon, you'll witness some of the "falling stars" associated with the Perseid meteor shower. Be amazed. Be filled with wonder and awe. If you're like me, you'll gain a renewed appreciation for the vastness of creation, and how tiny we humans are in the grand scale of God's activity. If you think about it too long, if you allow yourself to be confronted with the actual scale of the cosmos and your utter lack of control and very real dependence on people and things beyond your control, you may suddenly be seized by fear. And yet…
The lessons for this week take that very real feeling of fear and turn it on its head with the good news of God's promises, Jesus' love and grace,
and the power of faith to free us from the fears that would bind us. We hear God say at the beginning of Genesis 15"Do not be afraid, Abram, I am your shield; your reward shall be very great." According to God, Abram's descendants shall number as many as the stars he sees in the night sky above Hebron.
The anonymous writer of Hebrews speaks of the great faith of Abraham, and his obedience to God as a result of that faith—that same starry night sky faith of promises beyond reason of faith in points of light and the whispered voice of the Cosmos Creator. We, too, are called to a faith beyond our sight, but not beyond our vision. We, too, build our faith on things unseen yet believed possible, on stories of the faith of others, and on promises fulfilled but unseen by our own eyes. We gaze into the words of the great narrative of God's relationship with God's beloved people and see in those very ordinary far/near points of light a glimmer of the promise for us, too. And yet…
Still we allow fear to creep in. What if our church doors close? What if the congregation is becoming irrelevant in an uncertain world? Could it all be for naught? Is it possible that our programs and preaching, our mission and ministry, our treasured edifices and memories will be reduced to dusty artifacts and faded photographs from congregations long closed, rickety as crumbling grave markers and abandoned prairie sanctuaries? Yes, change will come as surely as the tide rearranges the landscape under bare feet at water's edge. But we need not fear, for, as Jesus reminds us in Luke's gospel this week, "…it is your Father's good pleasure to give you the kingdom."
The good news is that no matter how fragile our faith and fierce our fear, we have freedom in Christ. We are freed to live beyond the mere physical trappings of a transient world. Yes, our possessions may end up in a rubbish heap, and our earthly goods may someday be unwanted and irrelevant, but the things of God will never go out of style or be taken from us. We walk with God, we encounter our Lord Jesus Christ in Word, Sacrament, and in the gathered community, and we walk by faith through the gift of the Holy Spirit. This is amazingly good news indeed. This is news that frees us really to live, to love fully, and to serve faithfully.
Now, go out and look at those stars again. You have a place among them. You are offspring of the promise and beloved of God. Be a bold and brave steward of all that God has given you. Be the light of Christ in this world. Shine!
In Worship
By Faith…
Who in your congregation can recount the story of how the congregation came to be? How is the collective memory of the faithful ones recounted and shared? Who among you can tell about the giants of faith who helped to shape their discipleship journey? We humans love a good story, so why not embark on an oral history of your congregation? Get a few video cameras or digital voice recorders and collect the stories of faith that show what was and how that led to what is. Then do a little dreaming: where do you want to go? Where is God calling you as a worshiping community?
Consider singing hymns that speak to the wonder of God as Creator. "God of the Sparrow" and "He Comes to Us as One Unknown" are two options that might work well to sing within a sermon that touches on the themes in this week's lessons—fear, faith, and freedom.
With Youth
If your youth group is good with "spur of the moment" outings, consider a camp out under the stars this coming Sunday night. Late Sunday night into the wee hours of Monday morning should be the high point of the Perseid meteor shower in the northern hemisphere. The crescent moon may provide more than ideal light, but if you have binoculars and/or telescopes, why not celebrate God's promise to Abraham with a campfire and stargazing? In some places it might be possible to see up to 60 "falling stars" (meteors) in an hour. Click here and here for more information. Sharing the wonder and awe of creation can provide important and lasting memories for youth. Plus, a little fresh air never hurts anybody!
With Children
How about printing a copy or procuring a poster or print of Vincent Van Gogh's beloved painting "Starry Night" and using it to help the children understand how God used the stars to help Abraham visualize his promise to him. Invite them to look carefully at the painting. What do they see? Do they notice the warm, safe glow of the lights of the town? How about the church steeple in the center? The swirling, almost dancing night sky?
Van Gogh painted this beautiful picture at a very dark time in his life. Did you know he was the son of a pastor and at one point even wanted to be an evangelist? Instead he ended up turning to art, and although he only sold one painting in his lifetime, he has left us with treasures that help illumine the beauty of God's good creation.
You might also teach a revised version of "Twinkle, Twinkle Little Star" using these lyrics or making up your own:
Twinkle, twinkle, little star,
How I wonder what you are.
Up above the world so high,
Like a diamond in the sky.
God above has made you bright,
To remind us of Christ's light,
Never will God go away,
God is here both night and day.
Twinkle, twinkle, little light
Help me shine for God so bright.
Photos: Dave Dugdale, bobosh_t, and Pavel Trotsenko, Creative Commons. Thanks!)
Stewardship of Life
Thank you for printing this article!
You can view this article online at http://bit.ly/19c9X4E.
© 2013 Stewardship of Life Institute
https://westrevision.stewardshipoflife.org
No Comments
Leave a Reply