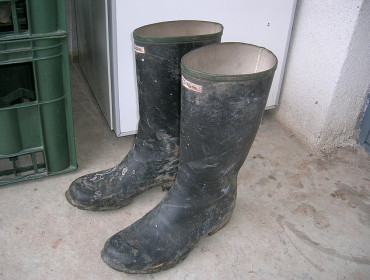 Stewardship Basics in a Rural Setting
The following article, written by Pastor Todd Nelson, is one of many valuable weekly newsletter offerings from the Center for Stewardship Leaders at Luther Seminary. Be sure to visit their website for this and other resources, as well as recordings from past Renewing Stewardship events.
"Buy yourself a pair of chore boots!" That was one of the first pieces of advice I received twenty years ago as a recent seminary graduate heading into rural ministry. I must say, it was good advice, especially for a guy who grew up in the suburbs of the Twin Cities. Little did I know at the time that such advice would be the key to being a successful stewardship leader in the context of rural ministry. When I encounter seminary students today preparing for rural ministry, I begin by suggesting that they buy themselves a pair of chore boots. Allow me to explain.
Serving as pastors and stewardship leaders in a rural setting leads many pastors into the daily lives of the people God has called us to serve. Pastors are invited to make an investment into the lives of people whose daily vocations may be lived out in barns, fields, forests, mines, mills, and factories.
Stewardship in rural church settings demands that leaders understand the rhythm and flow of life in the rural community. One way to gain such an understanding is to take a "boots on the ground" approach to ministry. Many valuable conversations about faith and life have occurred in farrowing barns, milking parlors, cabs of combines, and on the loading docks of the local feed mills. It is in these and other similar locations that pastors and stewardship leaders discover the financial trends, booms and busts which in turn affect a congregation's stewardship ministry. This is why owning a pair of chore boots is so important. It is in these locations where pastors learn about the vocation of those they serve and how such vocations serve a good and Godly purpose.
Here are a few helpful hints for pastors engaging in rural stewardship ministry…
Buy a pair of chore boots. A good pair of work clothes and gloves are also helpful. (Ok, enough said on chore boots)
Arrange to visit your parishioners where they practice their vocation. Farmers often enjoy teaching a green pastor how to milk a cow, sort hogs, or throw a hay bail. During your visit, ask questions. Find out what draws them to their vocation. Ask about the spiritual connections that are made in the midst of their work. Inquire if there is a biblical passage, story, or principle, which helps them connect their working life to their faith life. Find out where they see God's hands at work in the midst of their labors. And most importantly, say thank you for the good and Godly work they do.
Learn your local economy. There are a wide variety of resources in most communities that can help you understand the patterns of the local economy where you serve. In agricultural communities, the local agricultural extension agent is a great place to start. (You can find your local extension office through an internet search including your county name, state, and "extension office.") Extension agents can put you in touch with people and resources that can best explain the economy of your community. Also, it may be helpful to visit with local grain elevator and feed mill managers, local bank and credit union loan officers, and your county commissioner. All of these resources can help deepen your understanding of how money flows in your community.
Spend time with your congregation's treasurer or finance director. Take a good look at the congregation's financial records. Ask about trends in giving, special gifts received, and giving opportunities that may be unique to your rural economy. For instance, in many agricultural communities, gifts of grain are often a way in which farmers experience "first fruits" stewardship. It is also important to find out the patterns of giving in the congregation and what drives these patterns. Ask your treasurer if there are times when shortfalls should be expected and when abundance should be anticipated. This should help guide your approach to and the timing of stewardship education and appeals.
May God provide abundant opportunities for you to put on your chore boots and celebrate the vocations of the rural stewards you are called to serve.
Pastor Todd Nelsen is Senior Pastor at Faith Lutheran Church in Spicer, Minnesota. He serves as a member of the SWMN (Southwestern Minnesota) Synod Stewardship Table and as Ventures in Stewardship Facilitator
(Photo: Gummbott, Creative Commons)
Stewardship of Life
Thank you for printing this article!
You can view this article online at http://bit.ly/1zBjY4M.
© 2014 Stewardship of Life Institute
https://westrevision.stewardshipoflife.org
No Comments
Leave a Reply