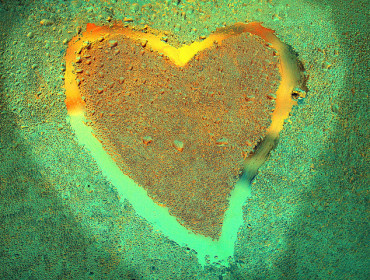 Language of the Heart
Lectionary Reflection for the Fifth Sunday in Lent, Year B
March 22, 2015
But this is the covenant that I will make with the house of Israel after those days, says the Lord: I will put my law within them, and I will write it on their hearts; and I will be their God, and they shall be my people. Jeremiah 31:33
Named and claimed in baptism: We are marked as beloved children of God with the sign of the cross. Water and Word comingle in one holy moment in time, and we are forever changed. Perhaps it is in this instant that the Creator of the cosmos also etches into fertile ground of our very hearts this covenantal instinct, this new thing that Jeremiah describes, and this radical interior language of faith.
The law God intends to put within the hearts of the house of Israel, this new covenant, comes at a time when the nation is broken, dispirited, and crumbling before the prophet's very eyes. Yet God does not abandon the people, even when their hearts have turned from God's divine love and life-giving law. God is faithful and promises to be known—not just in word and in teaching, but in the very DNA of the people.
In the gospel lesson for this week, some Greeks have come to the disciples asking to see Jesus. It would seem a simple request, but Jesus has something else in mind about vision and sight. Jesus is predicting his passion and death, telling the people gathered, "Now is the judgment of this world, now the ruler of this world will be driven out. And I, when I am lifted up from the earth, will draw all people to myself" (John 12:31-32). Indeed, this is what Jesus continues to do today, and people continue to come to see Jesus.
We come to see Jesus in bread and wine. We come to see Jesus in the faces of our sisters and brothers. We come to seek Jesus in image, in song, in words that paint a picture of our Lord. As disciples, we seek Jesus in the stranger, the poor, the marginalized, the imprisoned, and the outcast. Others who may not yet know our good news story come seeking, not even truly comprehending for what or whom they seek. Yes, we wish to see Jesus. We wish to be healed and whole and right, even when we cannot articulate in word or action this deep desire birthed in us. You, and I, and all of creation is made to be drawn into relationship with God.
When you gather for worship this week, consider the times in which we live. The church has lost its glory-day luster in many parts of Christendom. Our culture promotes a gospel of consumerism, of fragmentation and dissolution. We are held captive to our own desires and broken in so many ways.
Globally we face challenges more daunting than ever before with poverty, famine, climate change, economic injustice, and warfare. And yet God is faithful. God does not abandon us. God has already written in our hearts the language of love that we so desperately need.
The challenge is to learn to speak this language, to hear it, to read it, to chew on the words and drink deeply of their meaning. God is with us always, and we are created to be God's beloved. Even today, even in this age, God is doing a new thing. We are God's people: forgiven, claimed, and treasured. This is the good news we have to share: life-giving and life-changing words of hope, grace, forgiveness, and love. Blessings on your teaching, preaching, and sharing of the good news.
In Worship
So how does one incorporate stewardship into this week's lessons? Consider inviting congregants to ponder how they are stewards of the mysteries of faith. We know that we have this language of the heart, this connection to God that goes deeper than mere language and symbol. The gift of faith is an incredible thing to tend and care for, as well as to share. Challenge congregants to identify one action this week they can take to tend and cultivate this gift, to strengthen it, and to share it. It might be that they commit to a discipline of prayer and holy listening. Perhaps they could look for "God sightings" in their daily life. What about committing to somehow share the good news with one person in word or deed? Stewardship involves all aspects of our life, and tending to our own faith life and sharing the good news is, indeed, the practice of good stewardship.
With Youth
Planting seeds of hope and justice and love is a good topic to discuss in conjunction with this week's Gospel lesson (John 12:20-33). Jesus says, "Very truly, I tell you, unless a grain of wheat falls into the earth and dies, it remains just a single grain, but if it dies, it bears much fruit" (Jn. 12:24). What kinds of seeds of hope, justice, and love can we sow? What parts of ourselves might have to die in the process (wants, desires, expectations, assumptions, etc.)? Jesus died so that all of creation might be saved and restored to its right order. We are partners with Christ in this restoration kingdom work. Discuss how we can be partners. What is the cost? What are the risks? The dangers? The joys? The rewards?
With Children
Usually Swedish hearts are reserved for Christmas trees, but why not make a purple Swedish heart for Lent? Have one ready made (here's a link to a pattern), be ready to make one, and give kits in paper or plastic bags to each child, along with detailed instructions. On each strip of paper write the words of Jeremiah 31:33. Share in a simple way the story of God's special heart covenant with the people of Israel and remind them that through Jesus we also have this "heart language." Instruct the children to hang the heart somewhere they will see it each day for the remainder of Lent. Finish with a simple prayer, perhaps giving them a copy of the prayer to pray each day.
Photos: Micheal Gil, Matt Wi1son, and York Minster, Creative Commons. Thanks!
Stewardship of Life
Thank you for printing this article!
You can view this article online at http://bit.ly/1EpnMqf.
© 2015 Stewardship of Life Institute
https://westrevision.stewardshipoflife.org
No Comments
Leave a Reply