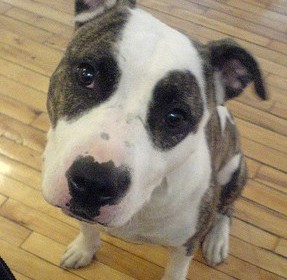 SNAP to it Food Stamp Challenge–Day 22
Fit for Dogs?
She said, 'Yes, Lord, yet even the dogs eat the crumbs that fall from their masters' table.'"
Matthew 15:27
Part of my SNAP to it Challenge effort this month is to eliminate (or at least reduce significantly) food waste in the Lucas kitchen. Today, I found some rice that I know had been in the fridge for about 10 days. It didn't smell bad, it wasn't growing fur, but I figured it was too far gone for me to eat, even though I'll eat almost anything. The three dogs seemed very interested in the container, so I mixed the rest in with their food, and they gobbled it down with tails a wagging. Their greed, their hunger, and their satisfaction with even the most meager crumbs from my refrigerator gave me pause to remember the story in Matthew's gospel (15:21-28) of the Canaanite/Gentile woman who came to Jesus seeking healing for her daughter. When Jesus responds to her "It is not fair to take the children's food and throw it to the dogs" (15:26) she pushes the limits by saying even dogs get crumbs from the table. Jesus is moved by her faith, and no doubt by her bold persistence, and heals her daughter.
This story reminds me of how we treat people when it comes to food. Americans, as a whole, grudgingly accept that a miniscule portion of our tax dollars go to help feed those in need through SNAP, WIC, and other programs. We also support local food pantries, community kitchens, and feeding missions/ministries. I fear we do so with the attitude of the first century disciples who wanted to send this woman away from Jesus; there is a perception that most of these folks don't belong at the table, that the crumbs are good enough and maybe too good. Plus, like I've said in past entries, we can be pretty expert at judging what folks with EBT cards have in their carts. I suppose it is alright for us to purchase a bag of Cheese Puffs and a case of pop because we've earned the money, right? But how dare someone using our tax dollars do the same? We fail to examine why people make such purchases: lack of nutrition education, desire to see that their families have at least some of the same things other families have, peer pressure, or just plain old want. We try to pick the visible dandelion flower without getting to the root of the weedy problem.
Here's an example. When was the last time you ate a public school lunch? Unless you are in the rare district where nutrition and whole/slow/local foods are a priority, you might find yourself eating a chicken patty, tots, and chocolate milk. There may have been some peaches in syrup or pudding on your tray, but chances are that ends up in the garbage can. If you don't believe me, see if you can visit the walk in freezers of your local school and look to see what's in there. Trust me; it's probably not what you would choose to have in your home freezer.
British chef Jamie Oliver also sees an issue with what Americans are eating. Recipient of the 2010 TED Prize, his wish is to teach every child about food. You may have seen his ABC show Jamie Oliver's Food Revolution where he tries to get healthier food into a West Virginia school system. The stories he shares will break your heart.
See, it's not just SNAP recipients who are eating unhealthy food. We're feeding the children we love and the future leaders of America substandard food, and for the most part we are not incensed about it. We don't even have a clue about the amount of government surplus that is being slipped under the table into little mouths. Do you believe your children and grandchildren, your nephews and nieces, your neighbors and church youth should be fed a diet heavy in processed foods, laden with artificial colorings, fats, fillers, and ingredient lists as long as the Pledge of Allegiance? The situation is not simple. There are years of mostly well-intentioned policies, powerful business lobbies, along with habit and tradition that need to be changed. The truth is we are feeding our children the worst of the crumbs from the master's table, worse almost than what we feed pets.
The next time any one of us is tempted to judge the contents of someone else's grocery cart or make assumptions about economic status or weight or ethnicity, hold that thought. Consider instead how we can be part of the solution to change the way we look at food in America rather than simply one more aspect of the problem. It can be done. After all, there is room for all of us at the table.
State of the Pantry
Leftovers, leftover, and more leftovers: but hey, at least there is plenty of healthy food!
Website of the Day
Click here to watch Jamie Oliver's TED speech. It's about 18 minutes long and worth the time! Then, check out his program, Jamie Oliver's Food Revolution on ABC's website. A healthy diet is everyone's concern!
Photo Credits: kio, Ben+Sam, and treehouse1977 through a Creative Commons License. Thank you! Christ and the Canaanite Woman by Germain-Jean Drouais c. 1784.
Stewardship of Life
Thank you for printing this article!
You can view this article online at http://bit.ly/culZAg.
© 2010 Stewardship of Life Institute
https://westrevision.stewardshipoflife.org
No Comments
Leave a Reply