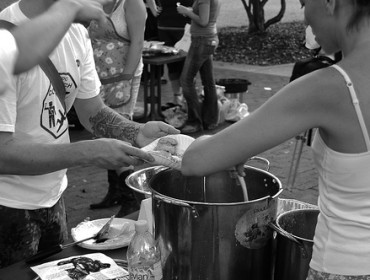 Impossible Dream or Resurrection Reality?
Second Sunday of Easter Lectionary Reflection
April 15, 2012
Now the whole group of those who believed were of one heart and soul, and no one claimed private ownership of any possessions, but everything they owned was held in common. Acts 4:32
If you've been looking for a Sunday to teach or preach about stewardship, then April 15 is your lucky day. Look no further than the first reading, from the Acts of the Apostles!
Did it just become more appealing to take another pass at Thomas and his need for a sign? If so, don't hang your head in semi-shame; the description of how the early Christian community behaved is a tough text to tackle in our 21st century consumer culture. I urge you, however, to give Acts a go. Trust in the Spirit breathed upon those terrified and confused disciples huddled in the upper room. The same Spirit emboldens, enlivens and inspires your faith community today.
Why are we so reluctant to talk about stewardship when it's at the heart of what it means to be a disciple? Being a careful steward of all God's gifts is not an optional add-on to the Christian lifestyle; it is the natural grateful response to the unmerited grace and mercy our Creator lavishes on us. Even so, we spend an inordinate amount of time dancing around the issue, rationalizing our behaviors and choices, and limiting the conversation to a prepackaged autumn pledge program. Really? Is that all there is?
People are by nature generous. I believe that with all my heart and soul. God has hard-wired people to give, to be in relationship, and to seek meaning and purpose through the holy ordinariness of each day. Stewardship is already written into our discipleship DNA, yet we allow cultural mutations to interfere with this natural design.
The early Christians were unabashed in their enthusiastic response as resurrection people. The world marked the Christian community as decidedly different in compassion and mercy. In a culture of honor, shame, and patronage, the early Christians were an odd bunch. They did not follow the worldly rules of empire and culture but trusted that God's abundance would provide for all of them.
Oh, sure, not everyone bought into this lifestyle of generosity; a story in the very next chapter illustrates this fact. Still, the intent and the ideal is clear: God welcomes everyone to the table, and when everyone shares everyone has more than enough.
But how do we approach this text without raising cries of socialism or utopian naivety? Is this kind of Christian community an impossible dream or a resurrection reality? I guess the answer depends on how willing one is to dream and take grand leaps of faith. My suspicion is that there are hints of this kind of Christian community already at work around us.
Here's an example. One small congregation I know collected $595 for the ELCA Malaria Campaign in just a few weeks. The chair of Evangelism initiated a clever campaign: she "infested" the congregation with paper mosquitoes, asking a donation of $10 to remove each pest. Once people realized that a mere $10 (the cost of a modest restaurant lunch) could provide a treated net that would save a life, the funds rolled in and quickly exceeded their goal of $400. And this is a congregation where the average Sunday worship attendance is 36.
I bet you can find examples both great and small of generous service and giving in your context. You can lift up plenty of examples of communities that do manage to live this reality—Franciscans, Shakers, Catholic Workers, and New Monastic communities—where groups of Christians are convicted by the gospel to attempt to live this radical vision of one heart and soul and pocketbook. Of course, none of us is perfect; no community reaches the ideal. That's the beauty of resurrection. We grow into discipleship and grow closer to God and one another. We learn to love, we learn to serve, and we learn to give.
Dear friends, if we don't talk about radical generosity and stewardship, we will never attain it, and those with whom we serve may never learn enough and be convicted enough to try. Everything ultimately boils down to stewardship, of how we manage and share abundance in plenty and in want. Our people want to be generous, they want to give, and they want to follow the gospel command to love God and neighbor as self.
Do you believe we have the capacity to be of "one heart and soul"? If not, why not? If so, what will you do about it?
With Youth
Participate in the 30 Hour Famine or sponsor a Hunger Banquet to benefit an organization like Food for the Poor. Talk with teens about the tough issues of economic inequality and poverty. Family Promise has an excellent educational series you could use for a lock-in or retreat. Consider asking youth to find a way to skip a "luxury" such as a fast food meal out or an iTunes download each week and use that money for a special offering to benefit a local agency serving the poor in your community. In addition to giving money, find a way to serve in your community. Food panties, homeless shelters, community gardens, and after-school programs often welcome teen volunteers.
Initiate conversations about giving and consuming. Consider inviting teens to keep a daily log of their income and its sources and how they spend it. How much was given to support church or non-profit organizations? Share with them the results of recent research about church giving. What are their feelings and thoughts? Discuss the concept of tithing.
Youth want to care and will support programs and projects that are consistent with their core values. It's up to adult leaders to bring these conversations to the table and foster opportunities to shape and mold tomorrow's leaders and givers.
With Children
Involve children directly in a campaign to benefit others such as Heifer International (or your denomination's equivalent initiative). Set reasonable goals and make it an active part of worship. You might collect a noisy offering (passing empty soup cans to collect change). Children love to make noise! Think of ways to incorporate bright, colorful artwork and advertising. The earlier we begin the stewardship conversation, the more likely we are to cultivate future generations of generous, compassionate disciples.
Photos by stephen.willis,  C!, and Goamick used under Creative Commons License. Thanks!
Stewardship of Life
Thank you for printing this article!
You can view this article online at http://bit.ly/Hzua65.
© 2012 Stewardship of Life Institute
https://westrevision.stewardshipoflife.org
6 Comments
Leave a Reply