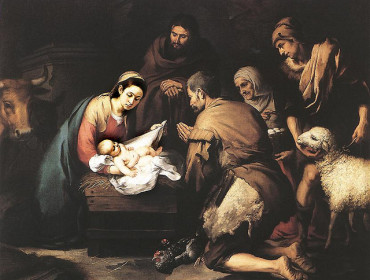 Enter Here
Narrative Lectionary Reflection for December 24-25
Christmas
Then an angel of the Lord stood before them, and the glory of the Lord shone around them, and they were terrified. But the angel said to them, "Do not be afraid; for see–I am bringing you good news of great joy for all the people: to you is born this day in the city of David a Savior, who is the Messiah, the Lord. Luke 2:9-11
We're not that many days out from Eve of our Lord's Incarnation and from Christmas Day itself. These days—both beautiful and stressful—are important ones in the life of the church. In fact, there's a lot of weight placed on preaching and worship leadership for these festival services. Those of us who plan and serve in worship, who prepare lessons and sermons, and who work with children and lead worship music, we shoulder the burden of expectations as people fill the pews. While we may know some of the struggles, concerns, and hopes of those who come, there are other folks whose expectations may never be known. Some people come maybe this one time, or a couple of times a year, perhaps at the urging of family or possibly because
deep in their hearts they know they need to encounter Jesus. After the fact, perhaps as we unwind and relax from the bustle of preparation, we may wonder, "How was this good news heard? Was this age old, familiar story received anew? Was the pomp and circumstance of that festal celebration enough to carry the weight of this precious story into the hearts and minds, into the core of the very beings of those who gathered?" And we may never know. That is probably a good thing.
One of the wonderful aspects of the Narrative Lectionary is that we are afforded the opportunity to enter into the Christmas story in a fresh way. We can take a slightly different tack and present it without giving in to the pressures and expectations that so often accompany the faithful and seekers alike on Christmas Eve. We have a fresh shot at proclaiming the unlikely, almost ridiculous story of the incarnation of God into this world in the form of a helpless, peasant baby who is temporarily homeless and soon to be a refugee. This child was born on the margins of society yet still in the shadow of empire, heralded by angels and visited by shepherds. How strange these events must have been for Mary and Joseph, how unsettling and bemusing, and how far removed from their plans and dreams. Yes, their expectations have been interrupted by the incarnation in ways they could not begin to fathom, the trajectory of their lives forever changed. The incarnation does that to each one of us, too.
Perhaps you'll be singing a lot of Christmas carols and pulling out all the stops for your services. That's great, and a lot of folks expect it, but I also hope and pray that you will be taking time to offer other doors for worshipers to enter into the story of Jesus coming into our world, taking on flesh and blood and bone along with sorrow, suffering, and joy. The incarnation is an incredible gift, one that defies explanation and expectation. It resists the baggage and trappings we might
wish to put on it—even with the very best of intentions. As surely as Jesus slept in a feeding trough in Bethlehem of Judea, as surely as the shepherds shared their story of the angels' visit, and as surely as Mary lovingly wrapped her baby boy in bands of cloth, Jesus is still with us in the bread and wine of communion, in the word proclaimed and read, wherever we gather together, in the waters of baptism, in the faces of neighbor and stranger alike, where we least expect to see him and also everywhere we look. Jesus breaks all the rules of time and space, covering this entire world and all that's broken with the gift of his love.
Dear preacher and teacher, cast a vision to help people to enter the amazing story of our Lord right here and right now. Trust that the Holy Spirit is working with and through you to open hearts and minds, to set the captives free, to water gardens of hope where seeds of faith have already been planted, and to equip the faithful. Paint that image—using words if you must—of an incarnate God reaching into our everyday lives and most guarded places to bring us into the story, to weave us into salvation's grand narrative, and to bind us into God's forever family. Blessings on your holy and hopeful work.
In Worship
We not be watching flocks by night in the fields of Palestine, but most of us have our regular patterns of work, play, and responsibility. A question to ask is "Where does the Good News break in and startle you? Where do you go to see God made visible? This would be a great time for a short dramatization of a modern telling of being called to see Jesus. Perhaps weave a story around the hymn "Go Tell it on the Mountain." Remind folks that we are called to go and tell because we have seen and experienced.
With Children
What the Little Lamb Saw
This Sunday why not weave a short story from the perspective of one of the shepherd's lambs about the birth of Christ. If you have a lamb puppet, be sure to use it. You can also make an easy ornament craft for children by cutting a simple sheep shape from card stock and winding thick wooly yarn around it. make a loop or attach an ornament hanger. Most children can wrap the yarn around and around the sheep shape. You will need about two feet of yarn for a three to four inch sheep pattern. if you don't have time to make up a story, consider using Max Lucado's book The Crippled Lamb.
Photos: Waiting for the Word (Murillo and Madonna and Child #56) and seetheholyland.net, Creative Commons License. Thanks!
Note: Reprint rights granted to congregations and other church organizations for local, nonprofit use. Just include this note: "Copyright (c) 2016, Rev. Sharron Blezard. Used by Permission." Other uses, please inquire: thewritelife@hotmail.com.
Stewardship of Life
Thank you for printing this article!
You can view this article online at http://bit.ly/2i2HANg.
© 2016 Stewardship of Life Institute
https://westrevision.stewardshipoflife.org
No Comments
Leave a Reply